Online GarageBand lessons
create music with or without picking up an instrument
Apple's GarageBand is a free but surprisingly resourceful program that allows recording, editing and mixing audio. GarageBand can be used to create audio and music, including original songs, albums, and covers; commercials and radio; content creation for your social channels, music for tv and film; and composing for video games and other media.
Online GarageBand lessons will flatten the learning curve. You'll get one-on-one Zoom instruction from a GarageBand master with priority on getting you creating right away and having fun while doing so.
Youtube tutorials can be hard to follow. Pre-recorded lessons don't give you the opportunity to ask questions or interact.
With our guided GarageBand lessons, you get the individual attention needed to see outstanding results faster. Whether you're a beginner or a seasoned GarageBand user, our live online instruction will have you performing at the top of your game.
how does GarageBand work?
GarageBand is essentially a full music studio inside your Mac or iPad. It has a complete sound library that includes instruments, presets for guitar and voice, and a selection of session drummers and percussionists.
With GarageBand you can:
1. record voices and musical instruments
Record your voice, an instrument, or any sound you can capture with a microphone. Plus, GarageBand includes a huge collection of digital instruments, including pianos, synthesizers, guitars, drums, horns, and more.
2. add loops
With GarageBand you can add loops to your project. When you add loops recorded at different speeds or in different musical keys, they all play together at the same speed and in the same key.
3. arrange and mix 
Arrange sections containing your recordings, then move, trim, rename, and make other edits.
4. learn to play guitar or piano
You can learn to play your guitar or keyboard using our guided GarageBand lessons. We'll teach you how to repeat sections you want to practice, slow them down to master a difficult part, guiding you every step of the way.
5. share your music with the world
When you finish your project, you can share it with family, friends, or the world by uploading it to iTunes, iCloud, or SoundCloud; or using AirDrop.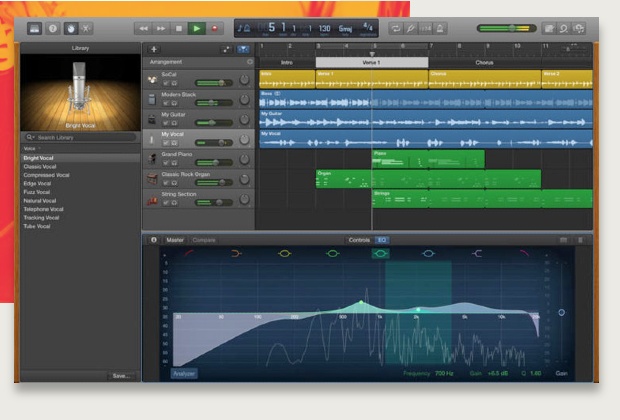 six-week introductory classes
what you'll learn
By the end of this course, you will have learned the basics of crafting melodies as well as harmonic and rhythmic elements through the process of layering, editing, mixing, and incorporating your own sounds, as well as pre-recorded loops, into your projects.
If your passion for music has you interested in the process behind modern music composition and editing, this is the course for you! Starting with the basics of audio recording, we will make sure you understand how to take your creativity to the next level in the world of modern digital recording.
online garageband lessons
Six one-hour classes provide ample instructional time for beginners while allowing plenty of creative time with a master recording engineer.
$225 – online garageband lessons
– classes are currently 100% online via Zoom or Skype
– GarageBand for Mac (a free download) required
– advanced courses are also available upon inquiry.